Welcome to another post of Business Stories with Webpage Analysis where I deconstruct the journey of fast-growing startups using their landing pages, home pages, and other important content on their website.
Today I'll cover the journey of Hypefury, a Twitter tool for growing your audience, and the choices they made over a 15 months period that helped them skyrocket their MRR from $300 in Nov 2019 to $18k in Feb 2021.
You can checkout Hypefury here
Please note that Marketingmetrics is reader-supported. When you buy through links on our site, we may earn an affiliate commission.
A lot of what I cover in these posts are my own analysis combined with information from blogs, open startups data and interviews of the founder(s).
This is what Hypefury looked like back in 2019 when they were just starting out.
At this point, they were addressing a solution aware customer base. That means there were already a few solutions that were offering similar features. You can read more about 5 stage of customer awareness here.
So they had to distinguish themselves from competitors with similar solutions and highlight features that could solve the customer's problems in a better manner.
I'll quickly recap 3 rules for solution aware customers to achieve this on a landing page:
Define the market most receptive to this product, their awareness level, and emotional forces that drive them- in this case, it will be Twitter influencers who want to grow following
Determine a new trend in the market that can be used to gain the attention of this market
Highlight the visitor's single biggest pain point- by capturing a feeling, a hope, a desire, or a fear in your copy. Focus on an emotion and give it a goal. Use a catchword.
Now let's have a look at Hypefury's headline "The only tool you'll ever need to grow your audience"
There are 3 things that stand out-
The headline is not addressing any particular audience or market. Claiming that Hypefury will be the "only tool you'll ever need" for building an audience sounds very generic. It can be said about any market per se. So it's not appealing to Hypefury's customers in any special way.
There is no mention of user's problems in the headline
"is a game-changer for twitter entrepreneur" is ambiguous as people don't know what a game-changer means. Users might expect something more concrete.
What happened 7 months after launch?
Although there were some issues in Hypefury's messaging as we pointed out above, it was growing at a healthy pace in the initial few months after its launch. But then suddenly there was a slump. See below:
Source: Baremetrics open startups
In my view this fall came because of saturation with existing channels of user acquisition.
When they acquired early users through content and social media, people visiting their page already had an idea about their offerings.
Landing page copy matter less in cases where you already have a rapport with users who are familiar about your product and its features through your content outside your landing page.
Tweet about this article
However as you grow more and new users visit your pages through referrals, search engines or other channels, they try to understand your product through the contents of your landing page.
It happens with many businesses a few months into the launch and it forces them to change the landing page content to increase conversions. Same happened with Hypefury as well. Below is the snapshot of their landing page from November 2020.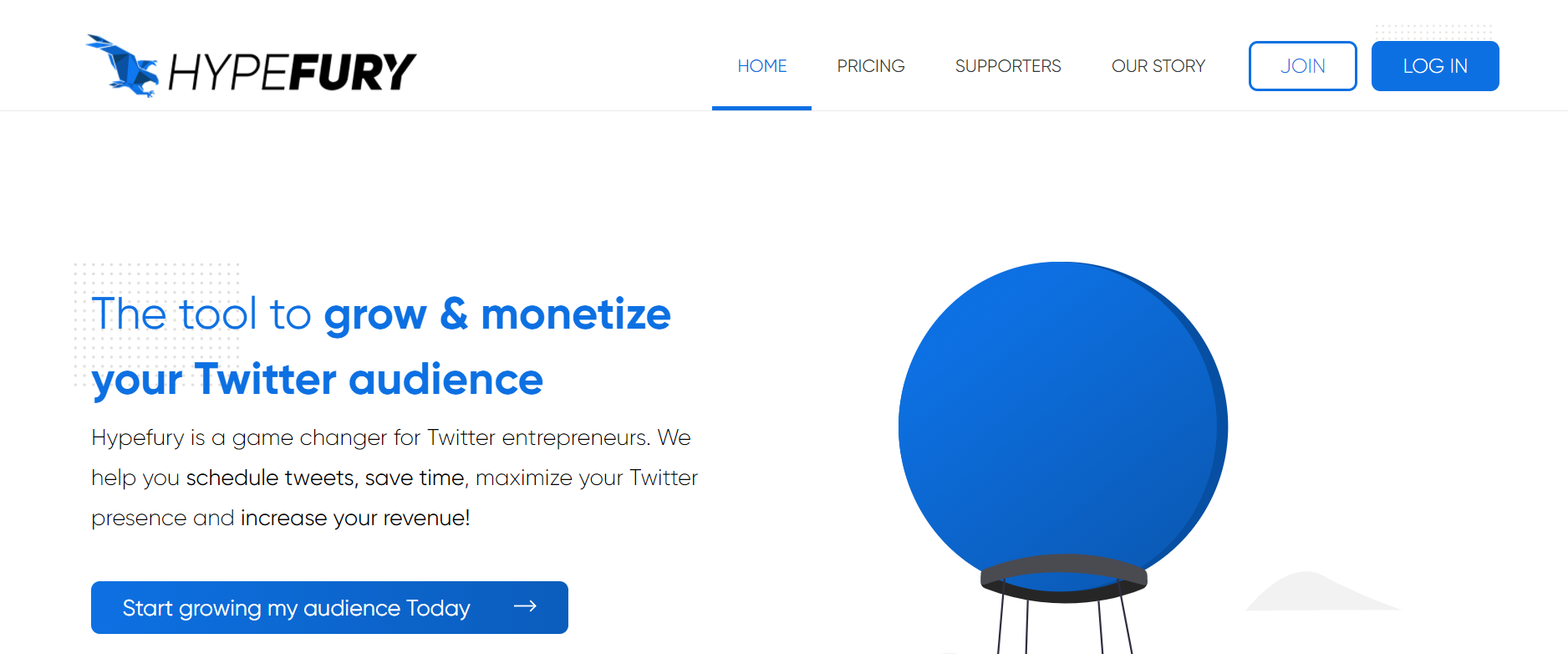 Notice how they changed their landing page copy to fix the fall in subscription growth.
2 of the 3 points we mentioned above are visible in their Nov 2020 copy:
Their market is Twitter influencers who are trying to grow their following and revenue. This new headline speaks directly to that audience.
They have captured a new trend in the market "Monetizing Twitter" and used it in their headline
They are talking about the biggest problem their prospects are facing "growing and monetizing twitter audience"
However, one problem still remains.
The headline or hero section is still having some ambiguity with "game changer for Twitter entrepreneurs"
This sentence is a deviation from what the headline claims and what the prospect expects to read next. When you tell them they can grow and monetize audience with a product, they want know how? by telling them that the answer is to use a "game-changer" product that can schedule tweets you are losing them in the top section itself.
Scheduling tweets is not that unique and there are already lots of solution available for it. By no means it can be called a game changer and nor can it help you grow or monetize a following.
Hypefury realized this soon and here's how their most recent page looks like:
The problems we mentioned about "game-changer" and "scheduling tweets" have both been removed.
They have laid out a clear path for their prospects to "grow and monetize" audience by saving time and increasing engagement rate with smart automation. This looks like a clear differentiation from other products in the market.
Tweet about this article
Changes in CTA
The CTA "Start your free trial" in 2019 page was changed to "Start growing my audience Today" in Nov 2020 page.
The reason is to give the users a clear value proposition about what they can expect by taking the next step.
Since it's a 2 step process to start the free trial by integrating with Twitter, a clever move is to NOT talk about "free trial".
Why?
Because the word "free trial" brings in several objections to the mind of the users that can discourage them from giving out their twitter credentials to an app.
How long is the free trial for?
What if they start tweeting from my account?
what happens when free trail ends?
Would I be stuck with something after the free trial ends?
What happens if I forget to cancel?
Do I need a credit card for this?
Obviously, companies can't address all these in their hero sections. So if someone in ready to take a test drive, it's better not to bring up "free trial" and show them a value proposition.
For others, there is always the option to scroll down and get answers to their objections.
Lessons from Hypefury
There are some clear lessons from Hypefury's landing page journey.
First and foremost, landing pages should always be designed keeping the end customers in mind. Your copy, design, product everything is secondary to your customers and their problems. This one rule can simplify your pages to an extent beyond your imagination. Before you write a single line, don't think if it will help you in selling a product. Think if the information will take your prospect one step aheadin solving their problem.
Follow the 3 rules for solution aware customers mentioned above if your product is solving a problem for which solutions are already available.
Focus on the biggest pain point of the customer that your prdocut can solve
Even small tweaks in CTA can get you an edge. We'll talk about this in-depth in one of our later posts.
Thank you for reading 🙏. If you have any questions, my Twitter is open for DMs here.